Lawn Care & Mowing Galesburg IL
Serving the Galesburg area, including Monmouth, Knoxville, Abingdon and Wataga and more. We offer a full-package of services for your back, front yard and lawn randing from lawn mowing and maintenance, fall and spring clean ups to shrub and plant installation, gardening, mulch installation, aeration, overseeding and water irrigation.
Our Lawn Care & Mowing Services
If you're in search of lawn care or lawn mowing services in Galesburg, Illinois then we'd love to get in touch with you. We provide individuals and businesses with lawn care and property maintenance services, lawn mowing services being one of them, and ensure all our clients are left with a pristine green lawn and enjoy your home and yard even more.
Mowing the lawn can take up a lot of time, especially when you have a large area to cover or obstacles that prevent a standard lawnmower from reaching parts of it. Our lawn care and lawn mowing services provide our clients with a nice looking lawn within a matter of hours, and we've got all the equipment necessary to deal with even the toughest of challenges, including obstacles or debris, as well as larger fields as part of our property maintenance and green lawn service.
Aside from lawn care & lawn mowing service on location in Galesburg Il, we also offer general lawn services ranging from general handyman services to landscaping, leaf cleanup and snow shovelling, lawn aeration.
We operate in all locations in and around Galesburg, Il, including business properties as well as residential properties. If you're located outside of Galesburg but are situated nearby, we can usually still be of assistance as long as the distance isn't too great.
Galesburg Il Lawn Services
Our lawn services in Galesburg aren't just limited to the mowing of your back yard or company lawn. We also offer a range of other lawn care services, including debris removal, fertilization and pest control, among others. Below is an overview of all the services we offer our clients. If you have a task that needs doing on your lawn that's not listed below, feel free to reach out to us anyway to see if we're able to help you out.
Our lawn services include but are not limited to:
Lawn mowing and lawn maintenance
Debris removal
Seeding & fertilizing
Tree trimming, bush trimming & plant maintenance
Lawn Pest and insect control (moles, ticks, mosquitos, ants, mice & rats) *
Weeding and maintenance
Tree leaf removal (leaving leaves to rot can cause a huge problem and even damage your lawn health)
Landscaping – design, construction
Sprinkler systems
Water irrigation
Sprinkler systems
Water irrigation
Lawn aeration
Lawn raking business property maintenance.
All other grass/back yard related tasks
* pest control is limited to controlling the factors related to your back yard, field or commercial land. This is not a substitute for an exterminator. Please contact us to discuss this service if you're not sure whether we're a good fit.
All our landscaping lawn services are available for both commercial as well as residential properties in and around Galesburg Illinois. We also accept larger projects or projects which include long-term property maintenance.
Our lawn care & property maintenance process
While you can do some of those tasks by yourself, it takes time and it's not a one-time thing. The best lawn care requires consistent maintenance. This is why hiring a business like us is a great solution for your home or business property maintenance. It saves you time and guarantees that the job is done by experts and you won't have a problem with your lawn.
We follow a simple three-step process in all our landscaping lawn mowing and lawn care services. This ensures all of our clients get the best service possible. Our three-step process includes:
Understanding the scope of work
Before starting any home or business project, we always take the time to clearly understand the job at hand. By clearing everything up beforehand, we can ensure a fast turnaround time and the highest possible level of work. The more information you can give us the better, so if you have any special wishes or extra tasks you'd like us to take care of, it's a good idea to have them at hand while we're discussing the scope of work for your property maintenance. This allows us to get the work completed as quickly as possible as well as makes it possible for us to give you the best price we can.
Galesburg Illinois Lawn care service
Once we know the exact scope of the work, we'll try to get the project completed as quickly as possible. Lawn services such as lawn mowing tasks generally won't take any more than a few hours depending on the size and difficulty of the lawn, but services like landscaping, lawn maintenance, tree trimming and other more complex tasks may take more time. We will provide you with a quote and a timeframe estimate before starting the project.
Aftercare and lawn maintenance
There's nothing worse than contractors that disappear after a job is done. We always encourage our clients to contact our customer service if you have any questions after the completion of the services. Anything that comes up while the work, whether it is tree service or lawn care, is being done can be discussed directly, but we understand that an issue can arise after we've left. Please reach out to us if there is anything at all you feel we've missed, or if there's anything we can do to make your life easier. We value our clients highly and will always try to find a solution.
If you're interested in long-term landscaping and lawn maintenance services, then please reach out to us. Our long term lawn maintenance includes regular checkups and ensures your lawn and place is always well maintained.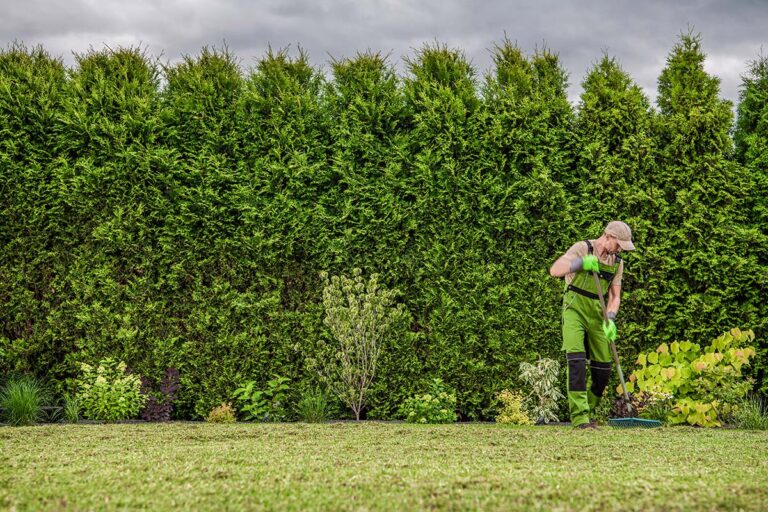 Price for Lawn care and lawn mowing service in Galesburg Il
Due to the varying nature of the services we offer, we ask that you contact us to discuss the tasks you would like us to do. Someone from our team of local experts can then give you a quote for the work.
Why choose our lawn care services?
We take great pride in the services we offer and always do our best to satisfy our clients. Clear pricing, high-quality landscaping lawn services and great aftercare are all perks of choosing us for your lawn mowing and lawn care tasks in and around Galesburg IL. If you live outside of Galesburg but live nearby, feel free to contact us anyway and we'll be more than happy to see if we can help you out anyway!
Lawn Care For Residential Properties
Our Galesburg Il lawn mowing and lawn care services for residential properties generally consist of lawn care in the spring and summer, as well as autumn leaf cleanup and winter snow shovelling. We can help you with all sorts of tasks around your home back yard and are more than happy to discuss any work that you need doing which isn't listed on our website.
Lawn Care For Commercial Properties
The services we offer for commercial properties include everything from lawn mowing and lawn care, to leaf cleanup and snow shovelling. As long as your property is in Galesburg IL or Galesburg County, or in the general location, we'd be more than happy to maintain your commercial lawn and help you make the best impression on your clients possible.
Our service area for lawn care and maintenance services
Our business service area focus is on location in Galesburg, Illinois, but our team also serves clients in the general area including Knoxville Il, East Galesburg IL, Henderson Il, Wataga Il and Colbrook Il, Abingdon Il, Monmouth Il and Warren and Knox County in Illinois.